As a business leader, you are often isolated, needing an impartial, external eye and ear to guide your communication and leadership style, especially to develop a strong message that transcends cultures.
Deborah offers one-to-one coaching (face-to-face or virtually) to senior executives, diplomats, and politicians on the international stage.  Her programme has been specifically developed for those who work across cultural boundaries to undertake negotiations, attend meetings or present to international audiences and who want to increase their personal impact, authentically.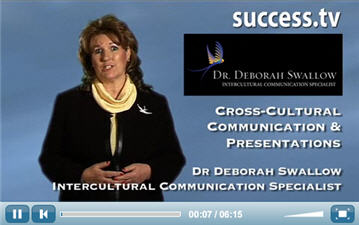 Watch Deborah's Videos on Cross -Cultural  Communication & Presentations
and Cross-cultural Sales and Negotiation Skills
Deborah's leadership coaching is focused on the individual, and looks at uncovering the authentic self and unique strengths. Then Deborah provides advice and feedback on intercultural skills, international business practices and cross-cultural communication that will project you in a consistently positive and powerful way – ready to do business in a flat world marketplace.
Working with Deborah will:
develop your strengths, refine and polish your material,  augment your existing skills instead of teaching you a new language!  In essence, working with Deborah will give you an international professional competitive edge.
Areas typically covered in the programme:
Uncovering the uniqueness of your personal strengths
Presentational Brand – projecting yourself authentically when presenting internationally
Understanding intercultural communication styles
Developing a strong message
Shaping & adapting your message to the needs of others
Negotiation styles
Silent messages and body indicators
Yet each programme is tailored to the individual client following an initial discussion.
To book an initial meeting with Deborah simply call Deborah's office on +44 (0) 207 1936 281 or email here.
"The transaction costs in international trade are high, which means that any thing that prevents success can cost thousands of pounds. You cannot afford to get things wrong. Globalisation has made industries more competitive so it is vital for organisations to have the right international skill set. The failure rate of international joint ventures and mergers is staggering. And, there are enormous changes happening in the workplace where people of all different nationalities are thrown together. With the challenges of new markets, remote teams and different communication styles across the globe, it is vital that business people take cultural considerations into account." Deborah Swallow
PLAYING TO WIN:
Developing CULTURAL INTELLIGENCE to raise your game in international markets