Do you sometimes feel that all members of your team are not pulling in the same direction?
That some have different values from yours back at HQ?
Or do you feel, in your heart of hearts, that you aren't maximising your international business prospects because of a lack of cross-cultural communications finesse?
Today's global economic climate is dictating more than ever that business decisions will be based as much on the quality of the product and service promised as by the people element of the business.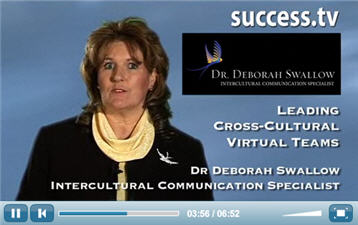 Watch Deborah's Video on the Ten Factors To Help Virtual Team Success
Working with executive teams and their members individually (as required), Deborah works to identify and rectify blockages, build empathy between members of staff of different nationalities and from different cultural backgrounds, overcome cross-cultural problems/misunderstandings and creates a strong set of shared values. She helps develop such personal attributes as:
Curiosity about other cultures
Acceptance that there are other people of different backgrounds equal to yours.
Tolerance of ambiguity when you are not sure of the outcome or the communication flow
Flexibility in looking for alternative solutions to provide a win-win solution to disagreement
Empathy in being able to see a situation from the other person's point of view
Ability to adapt your use of language to the level of the other person and to develop strategies to improve essential fluency
In addition, Deborah's approach will help you to get more out of meetings, to make team presentations that work, and to engage and motivate your key staff.
embedded by Embedded Video


In Addition…
Deborah can also undertake an objective analysis of individual and/or company's culture and communication style, helping you to:
sharpen your internal and external communications
share knowledge and expertise
market your products/services more effectively
communicate better with the 'local' community
win more business
To book an initial meeting with Deborah simply call Deborah's office on +44 207 1936 281 or email here.
PLAYING TO WIN:
Developing CULTURAL INTELLIGENCE to raise your game in international markets