The Finnish-British Chamber of Commerce organised a lecture together with the traditional Shrove Tuesday Lunch at Garbo's Restaurant with over 30 participants.  Dr. Deborah Swallow,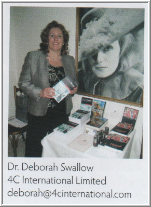 a cross culture specialist from 4C International Limited, gave us a presentation on how to present internationally.
According to Deborah Swallow presenting to international audiences has its own tricks. One should always keep in mind the expectations of the audience. Cultural differences in the audience affect greatly how people react to the presentation and whether or not the message of the presentation is received.
According to Dr. Swallow adapting your way of presenting according to the audience is the key in communicating the message properly. Understanding the differences is important because we need to meet the expectations of our listeners. Whether we want to sell a product or a service or introduce a change in working practices, we need to create rapport with our target audience.
The history of every culture shapes the way of communication for example; many of us can for example recognize the basic difference between the Finns and the Brits. Finns as Members of Nordic countries are concentrated on fact-based propositions while a British audience is instead eager to hear the benefits offered to them. In Nordic countries the communication is very informal when in the UK the titles are very important. A Finnish audience is also much quieter compared to a British one.
An audience is rarely an example of the two extremes, but rather somewhere between them. But one should be aware of whether your audience comes from an individualist or collectivist background, whether they think conceptually or associatively, and whether their language is expressed by doing, thinking or being.
According to Dr. Swallow Finnish people are seen to rely rather on logic with their attitudes and thinking than with emotional appeals. One should still keep in mind that emotions are an important part of communication in many cultures. For instance with Latinos you'll have to win the hearts of the listeners instead appealing to their logic. Americans love giving powerful and emotional presentations. They aim to tell stories that appeal to the listener's emotions. "Tell a story to your audience because it will last more than facts"- they believe.
Dr. Swallow also gave us few good tips of the usage of humour in international presentations. In the USA it is common to start a business presentation with a joke and it is a good way to break the ice. The French enjoy playing with language and admire those who can make linguistic jokes in French. In Britain humour is often used to connect with the listener and to create a rapport or to soften a conflict or a crisis. In contradiction, Germans dislike humour in serious business contexts and in Japan humour might be seen as a lack of respect for the situation.
However, Dr. Swallow advised us Finns to appeal to the minds and hearts of our international audiences and to keep in mind that being different does not mean being better or worse!
Finn-British Chamber of Commerce (published March 2009)