The Jewish New Year – Rosh Hashanah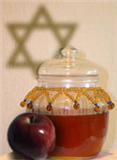 Rosh Hashanah (literally 'Head of the Year') marks the first and second days of the Jewish New Year. It is also the Day of Judgement and the Day of Remembrance. It's a time for some serious thought about life and a chance to ask questions about your actions throughout the year.
Find out more about Rosh Hashanah.