People in the Far East are NOT casual so be very respectful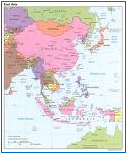 of their way of dressing; if you do not conform they will think you are being disrespectful. The Chinese have seven layers of wrapping presents, so wrapping YOU should be equally important- it's all about FACE. The dominant feature of business practice is your Personal Network: based on duty, obligation and trust.
So far in this section you'll find the  Top Ten Tips for doing business in five countries of East Asia, along with opening times, holiday dates and festivities. These are: China, Japan, Singapore, Vietnam, and Myanmar (Burma). 
Read more.. »