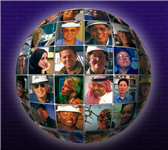 With sessions by Dr Fons Trompenaars and Dr Dick McCann to start off each day at the international conference on High Performing Global Teams, I knew I was going to be in for a treat.  The conference, organised by Jeremy Comfort (York Associates) and Dr Peter Franklin (Dialogin), was such an outstanding success that delegates asked for it to be extended to three days next year. A line up of 'who's who' in the intercultural and team working fields ensured that there were some key practices to be shared and new thinking to be learned. Whether you were a business person, practitioner in the field, trainer, academic or researcher, there was something for everyone. For those who missed it – make sure you don't next year!
Visitors came from as far as Chile, Canada and Australia to listen to the impressive line up of participating speakers who either gave presentations or workshops. These included Terence Brake, Barry Tomalin, Nigel Ewington, David Tricky, Dr Helen Spencer Oately, Richard Cook, Robert Gibson, Jeremy Comfort, Dr Peter Franklin, and many more.
The Conference had four main tracks:
Teams, Fairness and Trust; Teams
Culture and Diversity
Teams, Language and Communication
Teams and Competencies
The Conference kicked off with an evening Reception at York Associates premises in York, UK, on Wednesday 16th September. The conference itself was held at the York University Campus from 17th-18th Septermber and was sponsored by York Associates, Delta Intercultural Academy, Sietar UK, TMS Development International and Business Spotlight.
Tags: Barry Tomalin, David Tricky, Dick McCann, Dr Helen Spencer Oately, Dr Peter Franklin, Fons Tompenaars, Hig Performing Global Teams, Jeremy Comfort, Nigel Ewington, Richard Cook, Robert Gibson, Terence Brake