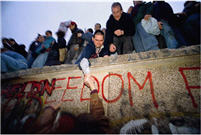 In a month from now Germany will be celebrating. On November 9th, 2009, Berlin celebrates the 20th anniversay of the fall of the Berlin Wall with a "Festival of Freedom".  That is the day that has gone down in history as signalling the end of the cold war. It is one of those moments in histroy where those in Europe, at least, can vividly remember where they were and what they were doing when they heard the news. What is little known is the story behind how the story first got out… a film maker, a vicar, and a nervous diplomat with a secret recording crossing to the West … which then lead to thousands of people on both sides of the wall converging on the crossing points, which lead to East Germany's Communist ruler's giving permission for the gates to be opened.
To hear this intriguing story listen to the BBC's correspondent John Simpson who recounts how he witnessed, first-hand, that historical moment and the story behind the story which he has been able to unearth. With interviews from the main protagonists, the programme "Simpson Returns" explores the day leading up to the evening events and how a smuggled film alerted the world to the protests taking place behind the iron curtain. It's a must listen programme.
John Simpson is the BBC world affairs editor and in this programme he tells the story of 20 years of post-Communist life. Through personal accounts, he traces the different roads East Germany, the Czech Republic and Romania have taken in the last two decades, beginning in Leipzig and Berlin.
For other eye witness accounts and films taken on the day click here.