Women around the world are integrating traditions and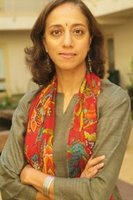 community into
their struggles for change in a way that challenges the very notion of Western models of development. They are showing their strength by subverting the very traditions that once silenced them so that they can give a voice to new aspirations. The three stories about a devout Muslim from Afghanistan, a harmonising group of lesbians from Croatia, and a taboo breaker in Liberia demonstrate that women can use their traditions and culture to navigate change in the face of repression…
Eleanor Roosevelt once famously said: "Women are like teabags. We don't know our true strength until we are in hot water!" And many women across the world are bringing about change through demonstrating their strengths.
Feminism isn't a fight against a big oppressor, but against a deeply held set of beliefs and assumptions that far too often we hold ourselves" Kavita Ramdas
Click here for the video to watch Kavita Ramdas, Director of the Global Fund for Women, tell these three stories.
The Global Fund for Women is the largest independent, publicly supported grant-making foundation to advance women's human rights internationally. It works in over 160 countries around the world. What makes it unique is that they are really investing in women's leadership and women's creativity in order to develop local solutions to some of the world's most challenging problems.