The average size of a bribe in Russia nearly tripled between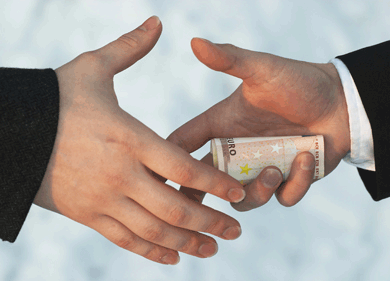 2008 and 2009 and officials there accepted a whopping $33.5 billion in bribes from Russian companies last year, according to a new Russian government report cited in the St. Petersburg Times….
Bribery is one of the greatest hindering factors to Russia's investment climate. Russian President Dmitry Medvedev pledged to fight corruption when he entered office in May 2008, highlighting the issue as one of the country's most serious problems.
How Much Is A Bribe?
The average size of a bribe in Russia nearly tripled between 2008 and 2009, despite a weakened global economic climate, according to a Russian Interior Ministry report published in March 2010. "The size of a bribe, both commercial and personal, was more than 23,000 rubles ($776) last year," the ministry's Department of Economic Security report said. In 2008, the average size was 9,000 rubles ($304).
The Clean Up Campaign
A series of scandals involving police in 2009 culminated in a presidential decree ordering a major overhaul of the Interior Ministry, with personnel cuts of 20% over two years to be balanced by higher salaries for remaining staff.
"In 2009, 4,300 crimes were registered in commercial and other organizations, including 4,200 to the interior ministry itself. Some 1,700 of those were linked to corrupt business practices," the report said. Around 4,000 people were arrested for bribery in 2009.
"The figure is unlikely to change in 2010. Two elements contribute to the problem of corruption: the bribe taker and the bribe maker," says, Alexander Nazarov head of the Economic Security Department. He noted, however, that the number of such cases did decrease by 7% in the first two months of 2010.
A decrease of 7% isn't exactly a sign of global victory but it does mean that the measures taken in 2009 are working."
Russia's Corruption Ranking
Russia was ranked 146th of 180 in the Transparency International Corruption Perceptions Index 2009, below countries like Nigeria and Ecuador. It moved up one place from 2008, when it was ranked 147th.
See my blogs on:
Russia: Insights Into the 'Blat' Economy
Russia: Bribery, Corruption & the High Price Of Bad Business
Russia: Cost of A Bribe Nearly Triples In One Year
What's Your Country's Corruption Perception Index
Useful Links:
Book: "Russia's Economy of Favours: blat, networking, and informal exchange" by Alena V. Ledneva.
Transparency International, the organisation that publishes the world Corruption Perception Index
Trace International, a non-profit organisation providing compliance solutions for multinational companies and their commercial intermediaries
Tags: blat, Bribery, corruption, cost of bribe, Russia