World Humanitarian Day is commemorated each year on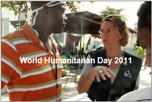 19th August and gives special recognition to all humanitarian, UN and other personnel who have worked in the promotion of the humanitarian cause. The day is a collaborative global celebration of humanitarian aid work joining the United Nations and over 500 national and international NGOs, aimed at engaging and inspiring the general public to get involved.  It especially commemorates those who have lost their lives in the cause of duty. It marks the day on which the then Special Representative of the Secretary-General to Iraq, Sérgio Vieira de Mello and 21 of his colleagues tragically lost their lives in the bombing of the UN Headquarters in Baghdad on 19 August 2003.
The 2010 World Humanitarian Day Project is a collaborative film shot in over 40 countries in under 9 weeks, on a shoestring budget – with the goal of showing the enormous diversity of places, faces and endeavours of humanitarian aid workers in 2010.  It was filmed by humanitarian staff and freelance filmmakers from around the globe (over 50 contributors in total) with all time donated.  Please help us by linking, embedding, tweeting and sharing this message with your friends, colleagues and contacts.
embedded by Embedded Video


For further information go to the UN's World Humanitarian Day website.
Tags: Baghdad bombing, World Humanitarian Day, world humanitarian day project