Confucius is the person accredited most with shaping the deep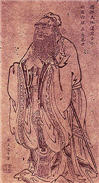 elements of Chinese culture that we can still see today. When looking at cross-cultural differences between East and West, Confucianism (long-term orientation and knowing your place in society) stands out as being the major difference from the short-term, individualistic orientations of the West. Thus, Confucius has influenced Chinese thought for over 2,500 years. Confucius's Birthday, otherwise known as 'National Teachers Day' takes place in China and Taiwan each year on 28th September. Chinese philosopher & reformer (551 BC – 479 BC).
Most confusing to Westerners is that the birthday is celebrated on two separate days due to differences in the Western solar and Chinese lunar calendars. In the Chinese Lunar Calendar, his birthday falls on the 27th day of the eighth lunar month, between September and November.
I hear and I forget. I see and I remember. I do and I understand.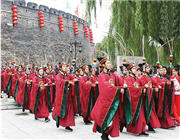 The day is called National Teachers Day due to the emphasis that Confucius placed on learning and scholarship and his belief that knowledge was the right of everyone, not just the privilege of the aristocracy. Confucius influenced Chinese thought for over 2,500 years. The philosophy of Confucius emphasized personal and governmental morality, correctness of social relationships, justice and sincerity.  Due to the deep respect for Confucius, his rituals and philosophy have become somewhat of a religion in China. During his life, Confucius lived in relative obscurity however students disseminated his teachings, which became popular after he died.
Our greatest glory is not in never falling, but in getting up every time we do.
There are elaborate celebrations to commemorate Confucius's life. The most elaborate takes place in his home town of Qufu at the Confucius temple. Qufu is in the South of Shandong province, 16km away from its provincial capital – Ji'nan – and 45km away from Ji'ning to the southwest. The Confucius Temple is the centrepiece of the town. The temple is said to be a fascinating place, with the Hall of Great Achievements and the Hall Of Poetry and Rites , where Confucius taught his son.
To be able under all circumstances to practice five things constitutes perfect virtue; these five things are gravity, generosity of soul, sincerity, earnestness and kindness.
The celebrations of Confucius birthday begin at 4am in the Confucius temple and other Confucius temples throughout China. Modest ceremonies take place at temples throughout the island of Qufu, and some even take time off to observe the day in their own way, contemplating the virtues of Confucius.
You can see grand celebrations on Confucius birthday. Events include musical performances and dancing using ancient instruments, wearing traditional costumes and other rites. The memorial party is joined by thousands of people. Good foods are also sampled at night street stalls. On Confucius birthday, not only is his life celebrated but his death is also venerated.
Tags: China, Confucianism, Confucius Birthday, cross-cultural differences