Did you know, there are still an estimated 12.3 million people across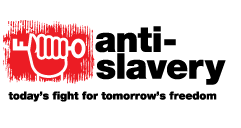 the world in slavery today, forced to work with very little or no pay? Anti-Slavery Day was set up to raise awareness of modern-day slavery and human trafficking. The trans-atlantic slave trade was abolished in 1807 and slavery is prohibited under Article 4 of the Universal Declaration of Human rights. In April 2010, the UK Anti Slavery Act was passed into law and 2010 saw the first Anti Slavery Day take place on 18th October.
Anti-Slavery Day provides a focal point for raising awareness about the many people around the world living in slavery and to promote the need for all of us in society to play a part in ending it.  There are many UK-based organisations who seek to end modern day slavery (including human trafficking), these include the NSPCC, Barnados, the Anti Trafficking Monitoring Network amongst others.
The website antislavery.org defines a slave as someone forced to work through mental or physical threat, someone owned or controlled by an employer through abusive behaviour , treatment of a person as a commodity (being bought or sold) and restrictions on a person's freedom of movement. Slavery can include bonded labour (labour to repay a loan), early or forced marriage, slavery by descent, trafficking, forced labour and child labour around the world.
There are many events taking place to mark this day. London has a variety of film screenings, museum exhibits and campaigns  and much is taking place in the Midlands, the South East and Wales. For more information on how you can participate, please see: http://www.antislavery.org/english/antislavery_day/events_programme/default.aspx
Tags: Anti-Slavery Day, UK