Today is Chinese New Year; but unlike many people who celebrate the occasion just over one night the Chinese honour the New Year by welcoming it over fifteen days.

First day–  This is the day for welcoming the deities of heaven and earth. Cleaning is considered bad luck today and meat is not consumed for health reasons. It is also the day when people honour the elders in their family. Money is given in red envelopes from married relatives to single ones, from business managers to their employees and from parents to children.
Second day- Known as kāinián (开年- the beginning of the year, it was a day when married daughters visited their birth parents. It is also the God of Wealths birthday, with people giving money to others. Business people hold a 'Hoi Nin' prayer to start work on this day to be blessed with prosperity in business.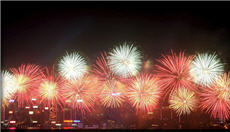 Third day- chì kǒu (赤口- red mouth or 'the God of blazing wrath'. It is seen as a day where one should not socialise with relatives or friends.
Fifth day – People shoot firecrackers on this day to get favour and good fortune for the new year.
Seventh day-   known as  Renri, the common mans birthday, a day where everyone grows one year older.
Eighth day-  – Family dinner held to celebrate the eve of the birth of the Jade emperor.
Ninth and Tenth day– Prayers are offered to the Jade Emperor on the 9th day, his birthday. Offerings include sugarcane, incense, tea and fruit. Gold paper is served to pay respects to the honoured person. Celebrations will also follow.
Eleventh and Twelfth days– Friends and family get together for celebratory dinners.
Thirteenth day- People cleanse their stomachs through eating purely vegetarian foods. The day is dedicated to Guan Yu, Chinese God of War and Wealth or Success and people pray to him for this.
Fifteenth day- Lantern Festival
Yuan Xiao festival or lantern festival, where families walk the


streets carrying lit lanterns. Rice dumplings are eaten. This is the last day of New Year celebrations.
Read detailed article on Chinese New Year
Greet The New Year and Encounter Happiness: Chinese New Year Sayings