With the Nordic countries dominating the new World Economic Forum's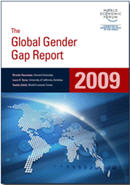 Global Gender Gap Index 2009, it seems that the rest of the world will always be playing 'second fiddle' or 'catch up' as the top four spots once again go to our Nordic neighbours. I'm disappointed to note that the UK slipped two places to 15th this year but it is still streets ahead of the USA who slipped 4 places to number 31!  Shame on us.
The report's Index assesses countries on how well they are dividing their resources and opportunities among their male and female populations, regardless of the overall levels of these resources and opportunities. So, who of our friends in the North won top spot and how did the rest of the world measure up?
Read more.. »