With the Nordic countries dominating the new World Economic Forum's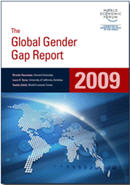 Global Gender Gap Index 2009, it seems that the rest of the world will always be playing 'second fiddle' or 'catch up' as the top four spots once again go to our Nordic neighbours. I'm disappointed to note that the UK slipped two places to 15th this year but it is still streets ahead of the USA who slipped 4 places to number 31!  Shame on us.
The report's Index assesses countries on how well they are dividing their resources and opportunities among their male and female populations, regardless of the overall levels of these resources and opportunities. So, who of our friends in the North won top spot and how did the rest of the world measure up?
Iceland (1) has claimed the top spot  from Norway (3) which slipped to third position behind Finland (2). Sweden (4) completed the Nordic countries' continued dominance of the top four.  Out of the 115 countries covered in the report since 2006, more than two-thirds have posted gains in overall index scores, indicating that the world in general has made progress towards equality between men and women, although there are countries that continue to lose ground.  South Africa and Lesotho made great strides in closing their gender gaps to enter the top 10, at sixth and 10th position respectively. The Philippines (9) lost ground for the first time in four years but remains the leading Asian country in the rankings.
In particular, the report notes that:
Nordic countries continue to have the smallest equality gaps between men and women
Engaging women equally with men in all aspects of life is imperative for economically competitive and prosperous societies
In particular, for rapid, sustainable economic recovery from financial crisis, integrating women and girls is an imperative
Click on The Global Gender Gap Index to access the full rankings and comparisons of of the countries.
Download: report, rankings (PDF, excel) country profiles, highlights. All information: www.weforum.org/gendergap
Tags: global gender gap index