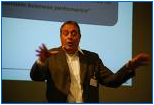 A serious topic, but Fons Trompenaars had us laughing, smiling and entertained in his usual inimitable fashion during his keynote address at the conference for High Perfoming Global Teams held in York, UK, last week. His main message to the audience was that creative individuals are a necessary but not sufficient part of a team for it to be effective. High performing teams need not only a diversity of roles but in particular leadership where the dilemmas between these roles are reconciled. This is the role of the Servant-Leader, reconciler-in-chief. However, his debunking of Michael Porter's 'Added-Value' concept was interesting …

I've heard Fons speak on several occassions but, for me at least, this was the first time I have heard him 'soften' his stance on 'dualism' or 'either-or-ness' taking a slightly more holistic approach to his dimensions. In recent years, his approach has come under criticism for being too ethnocentric and Western.  Those who come from cultures where you learn with your mind, body and spirit have voiced the opinion that Fons' work is too Cartesean – meaning that it follows the tradition of Greek philsophy of a Mind-Body split, a dualism.
As for ichael Porter …Fons asserted that you cannot add values – values are values. Combining values is one thing but the notion of Added-Value is nonsensical. However, his session mostly introduced the ideas in his recent book, written with Ed Voerman, Servant-Leadership Across Cultures.