In 2000, World First Aid day was introduced by The International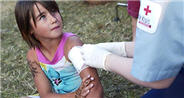 Federation of the Red Cross and Red Crescent Societies (IFRC). It was brought into being to raise awareness of how first aid can save lives in everyday and emergency situations. Events and ceremonies are organised each year on the second Saturday of September.
Why is first aid so important?
First aid not only reduces deaths, injuries and impacts in disasters but it can be used in every day crises. It provides an immediate response to the emergency until professional help arrives.
What do the IFRC do to promote first aid education?
The IFRC has introduced a first aid education kit for UK schools and youth organisations entitled- 'Life. Live it'. They also provide education to thousands of volunteers, making sure skills are up to date with changing health conditions. Web based and e-learning methods are also used.
More than 3 million people are trained by National Societies in Europe every day. In the Middle East and North Africa region in 2006, 13,000 volunteer first aiders provided training and assistance to more than 350,000 people. Furthermore, in Malaysia, the Red Crescent has embarked on a strategy to provide one first aider in every home, training 31,000 people each year.