I was recently sent an email with some amusing photos
comparing overcrowded trains in India and Pakistan (as pictured on the right) with slick, modern trains in other parts of the world. I began to wonder just how stereotypical were these pictures and whether any of them depicted a true-to-life view of train travel around the world. My investigation led to some interesting blogs and some stunning pictures.
INDIA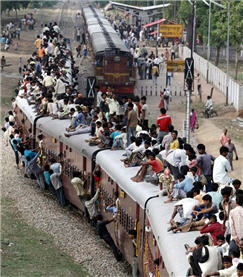 Here's a train in Lucknow, UP, India taken on July 11, 2009. Clearly an every-day case of overcrowding! See:
http://www.skyscrapercity.com/showthread.php?t=516812&page=156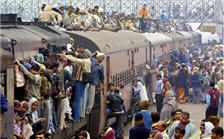 and, yet another…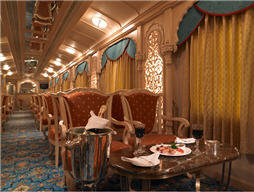 But there are luxury trains to be found as in the Mahaparinirvan Special Train, luxury train travel in south India by Golden Chariot. See:
http://navendushirali.blogspot.com/2006/02/indian-railway-case-study.html
PAKISTAN
So, just how true is the above picture of train travel in  Pakistan?
Well, I discovered the photo on the right,  taken by Mohammad Malik, clearly showing overcrowding. However, the overcrowding was due to many pilgrims departing Multan after attending an annual, three-day religious congregation.  See: http://www.rediff.com/news/2008/nov/04look.htm. I don't think this can really be described as an every-day occurrence. But perhaps it is not too far from the truth.
An extremely interesting travel blog I came across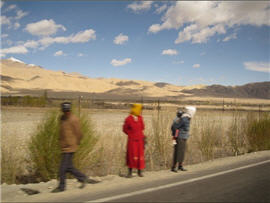 had some stunning photos of the region where the The Karokam Express train travels. Walking in the middle of nowhere was the right descritption for the picture on the left when seen in the context of the surrounding region!
See: http://www.travelblog.org/Asia/China/Xinjiang/Kashgar/blog-401618.html
Pic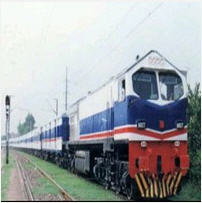 tures here are of the Karokam Express train and crossing the Indo-Pakistan border.
Anyone wanting information on train travel can find it at:
http://www.seat61.com/Pakistan.htm, or:
http://www.virtualtourist.com/travel/Asia/Pakistan/Punjab/Lahore-131005 .
CHINA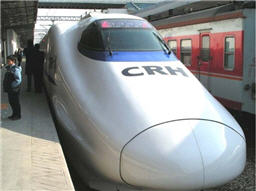 China, in wanting to prove that it's the most promising and fast growing country in the world, has unveiled the world's fastest long distance passenger train —the  Harmony Express. the CRH2. The new passenger carrier can achieve an average speed of some 217mph with a top speed of close to 250mph.
There are four kinds of classes available on Chinese trains: hard seats, soft seats, hard sleepers and soft sleepers. Traveling on a hard seat train is the equivalent of traveling 3rd class in a third world country.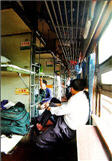 Hard seats are hard and uncomfortable and the carriages are often crowded with Chinese peasants with large bags and bundles. Because soft sleepers are considerably more expensive than other classes it is usually not very difficult to get a seat. Some have air conditioning, some don't. The toilets are generally pretty clean and hot water is served for tea. The main drawback is that a lot of people smoke. Get the low down on travelling by train in china at:
http://factsanddetails.com/china.php?itemid=315&catid=13&subcatid=86
 CHILE

One of the great things about Southern Chile is the fast, efficient, and cheap nature of the transport. Unlike many countries in Latin America, transportation is well regulated and safe. Public transport will get you to almost anywhere in the country you want to go, for any budget.
KOREA
The Korea Train eXpress (KTX)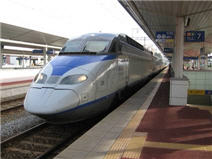 is South Korea's high-speed rail system. It is operated by Korail. The train's technology is largely based on the French TGV system, and has a top speed of 350 km/h, limited to 300 km/h during  service for safety.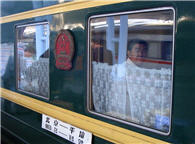 Whilst Korea may boast  super modern trains … North Korea still has net curtains at its windows. The picture here shows the K27 train that departs Pyongyang four times a week for  Beijing. there's also a weekly departure for Moscow. See: http://www.travel-earth.com/dprk/
A recent article in The Guardian newspaper says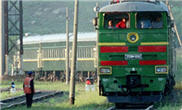 that North Korea's leader, Kim Jong-il – who is known for shunning air travel – has six luxurious trains equipped with reception halls, conference rooms and hi-tech communication facilities, according to a Seoul newspaper. There are also 19 stations across North Korea that exclusively serve his trains, which have a total of some 90 carriages, the Chosun Ilbo reported, citing an analysis by South Korean and US intelligence services.
 TAIWAN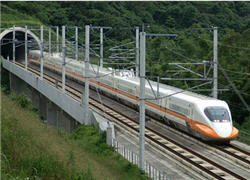 The Taiwan High Speed Rail  (known as the THSR) is a high-speed rail network that runs along the west coast of Taiwan. It is approximately 335.50 kilometers (208 mi), and runs from Taipei City to Kaohsiung City. It began operation on January 5, 2007.
FRANCE-UNITED KINGDOM
The Eurostar is a high-speed train service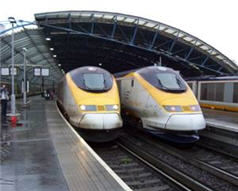 connecting London and Kent in the United Kingdom, with Paris and Lille in France, and Brussels in Belgium. In addition, there are limited services from London to Disneyland Resort Paris (Gare de Marne-la-Vallée – Chessy) and seasonal destinations in France. Trains cross the English Channel through the Channel Tunnel.
And… Good Old GREAT BRITAIN!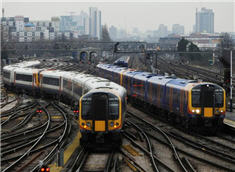 One New Zealand newspaper reports that train travel is both expensive and confusing in Britain. Not a very good indictment when you compare our service offering compared with some of the most modern trains in the world!
Travellers to Britain should be aware. This is what the watchdog group Passenger Focus said: the structure of long-distance train fares is "complicated and not logical."  The same train could contain passengers who had paid £150 for a ticket and others who paid just £10. The study found that flexible, last-minute tickets to London from other British cities were almost twice as expensive as comparable journeys in Germany – the next most expensive among nine countries studied – and more than three times costlier than in the cheapest, The Netherlands.
British commuter journeys were up to three times more expensive than in the other countries studied!
Tags: Britain, Chile, China, France, India, Korea, North Korea, Pakistan, Taiwan, Trains, Traintravel